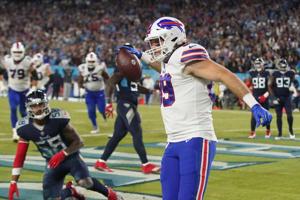 That was a common refrain from anyone asked about Sweeney during the week.
"Honestly, not even speaking football, just him as a person – one of the coolest guys on the team," safety Micah Hyde said. "He's one of those guys that doesn't care what anybody thinks and is just Tommy Sweeney, but when he gets on the football field, he can play ball, man."
"Yeah, I slipped them a $5," Sweeney said with a laugh when asked if he paid off his teammates to say something nice about him. "No, we've just got such a great team, good guys, so they're probably just being nice. That's how they are."
While there wasn't much to celebrate during the Bills' last game – a disappointing loss to Tennessee on Monday Night Football – Sweeney's first career touchdown catch was one of the bright spots. That came on a 1-yard reception in the third quarter.
"If you ask my wife, she would say it was her favorite play in the Tennessee game," tight ends coach Rob Boras said. "That's the first thing I got in the text. … Obviously, she was disappointed in the outcome, but Tommy just has something about him, where people have a great feel for who he is and cheer for him."
Sweeney entered the NFL as a seventh-round draft pick in 2019, the same year the Bills used a third-round pick on Knox. As such, they've come up together, experiencing the highs and lows of life as a professional.