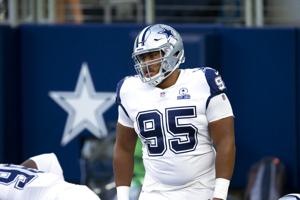 The Buffalo Bills have signed defensive tackle Eli Ankou to the practice squad. 
Ankou, originally from Ottawa, Ont., signed with the Bills in June, his seventh NFL team since entering the league as an undrafted free agent with the Houston Texans in 2017.
Ankou was released by the Bills in mid-August. He later signed with the Pittsburgh Steelers practice squad in October, but was released after a game. 
Listed at 6-3, 325 pounds, he played in 11 games with Jacksonville in 2017-18, nine with Cleveland in 2019 and seven with Dallas last season.
Feed your obsession. Start every morning with a guide to the latest news from One Bills Drive and stay informed about what is going on elsewhere in the NFL.